| | |
| --- | --- |
| | 차량용 영상 시스템 |

현재위치 : 제품소개 》메인보드 SBC
| | |
| --- | --- |
| TOTAL ARTICLE : 45, TOTAL PAGE : 1 / 5 | |
SBC 3.5" :

LE-37H : Intel® Apollo Lake Series Mobile Processor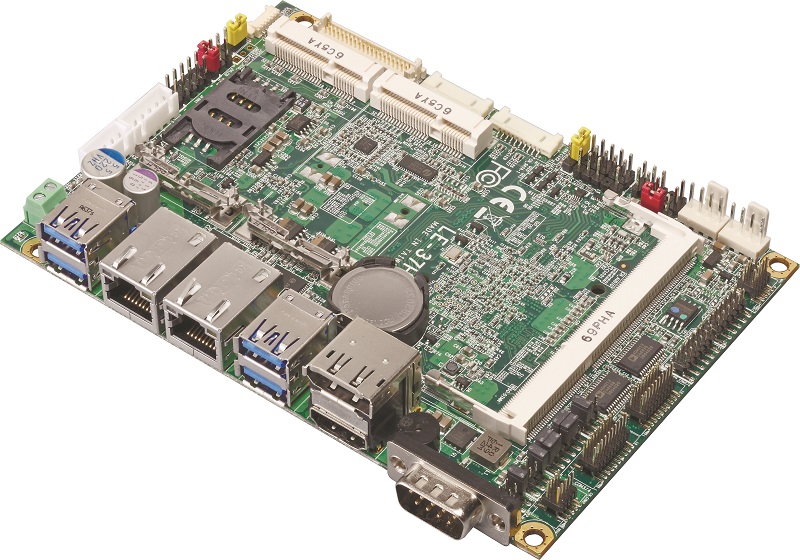 3.5" Miniboard embedded Intel® Apollo Lake Series processors, Support for DDR3L SO-DIMM 1866 MHz up to 8 GB. HDMI, LVDS, Display port, HD audio, two Gigabit ethernet, 2 x SATA3, 4 x USB3.0, 4 x USB2.0, 5 x RS232, 1 x RS232/422/485, 8-bit GPIO, 2 x Mini-PCIe sockets, 1 x SIM socket, 1 x LPC, DC 9V ~ 24V input
Key Feature
CPU: Intel® Apollo Lake series Processor N3350 / N4200, FCBGA1296 package.

Memory: One DDR3L (support 1.35V) 1866 SO-DIMM up to 8GB

Integrated Graphics: Intel® integrated HD Graphics.

Display port interface: Onboard Display port connector

HDMI interface: Onboard HDMI connector.

LVDS interface: Onboard 18/24-bit dual channel LVDS connector with +3.3V/+5V/+12V supply.

LAN Interface: 2 x Intel® I210-AT Gigabit LAN

Serial ATA: Support 2 x SATA3 with 600MB/s (6Gb/s) transfer rate, support RAID 0,1.

Audio: Realtek ALC262 HD Audio.

Internal I/O Port: 1 x PS/2, 4 x RS232, 1 x RS232/422/485, 1 x GPIO, 1 x Audio, 1 x SMBUS, 1 x LVDS, 1 x LCD inverter, 1 x LPC, 4 x USB 2.0, 2 x SATA3, 1 x DC Out

External I/O Port: 1 x RS232, 1 x HDMI port , 2 x LAN, 4 x USB 3.0, 1 x Display port (optional)

Extended interface: Two PCIE Mini card slots (Only MINI CARD1 support mSATA), one SIM socket.

GPIO interface: Onboard programmable 12 pin-header, 8-bit Digital I/O interface.

Power Requirement: DC Input 9~24V.
  Specification
Form Factor

3.5 inch miniboard

Processor

Intel® Apollo Lake series Processor N3350 / N4200, FCBGA1296 package.

Memory

1 x DDR3L 1866 SO-DIMM up to 8GB. Support Non-ECC.

Integrated Graphics

Intel® integrated HD Graphics

Real Time Clock

Chipset integrated RTC with onboard lithium battery

Watchdog Timer

Generates a system reset with internal timer for 1min/s ~ 255min/s

Serial ATA Interface

Support 2 x SATA3 with 600MB/s (6Gb/s) transfer rate, support

RAID 0,1.

Display Interface

Intel® HD Graphics Technology

1 x HDMI (Rear I/O HDMI connector)

1 x Display Port (Rear I/O Port) (Optional)

1 x LVDS (One onboard 24-bit dual channel connector with +3.3/+5/+12V supply)

LVDS Interface

One onboard 18/24-bit dual channel LVDS connector with

+3.3/+5/+12V supply

Audio Interface

Realtek ALC262 HD Audio

LAN Interface

2 x Intel® I210-AT Gigabit Ethernet Controller

GPIO Interface

Onboard programmable 12 pin-header, 8-bit Digital I/O interface

Extended Interface

Two PCIE Mini card slots, one SIM socket.

(Only Mini_Card1 can change to mSATA)

Internal I/O Port

1 x PS/2, 4 x RS232, 1 x RS232/422/485, 1 x GPIO, 1 x Audio, 1 x SMBUS, 1 x LVDS, 1 x LCD inverter, 1 x LPC, 4 x USB 2.0 , 2 x SATA3 and 1 x DC Out

External I/O Port

1 x RS232, 1 x HDMI port, 2 x LAN, 4 x USB 3.0, 1 x Display port (optional)

Power Requirement

DC Input 9~24V

Board Dimension

146mm x 101mm (L x W)

Temperature

Operating within 0°C ~ 60°C (32°F ~ 140°F)

Storage within -20 ~ 80°C (-4°F ~ 176°F)

Relative Humidity

10%~90%, non-condensing
  Ordering Guide

LE-37HPN4S

Intel® Pentium® Core™ Processor N4200 + Heat spreader, support HDMI, LVDS, DP

LE-37HTN4S

Intel® Pentium® Core™ Processor N4200 + Heat spreader, support HDMI, LVDS, Header for VGA/ 2nd LVDS (Note)

LE-37HPN3S

Intel® Celeron® Core™ Processor N3350 + Heat spreader, support HDMI, LVDS, DP

LE-37HTN3S

Intel® Celeron® Core™ Processor N3350 + Heat spreader, support HDMI, LVDS, Header for VGA/ 2nd LVDS (Note)

LE-37HPN4F

Intel® Pentium® Core™ Processor N4200 + Cooler Fan, support HDMI, LVDS, DP

LE-37HTN4F

Intel® Pentium® Core™ Processor N4200 + Cooler Fan, support HDMI, LVDS, Header for VGA/ 2nd LVDS (Note)

LE-37HPN3F

Intel® Celeron® Core™ Processor N3350 + Cooler Fan, support HDMI, LVDS, DP

LE-37HTN3F

Intel® Celeron® Core™ Processor N3350 + Cooler Fan, support HDMI, LVDS, Header for VGA/ 2nd LVDS (Note)
| | |
| --- | --- |
| | |