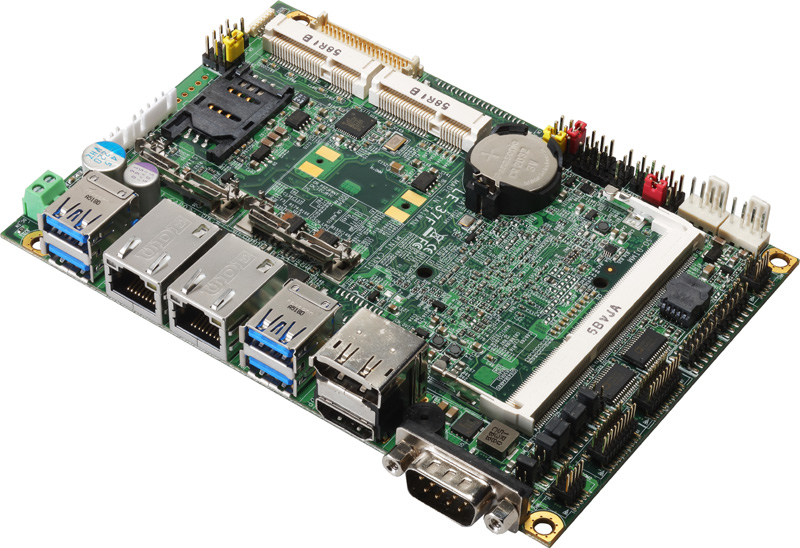 3.5" Miniboard embedded Intel® Braswell Series processors, Support for DDR3L SO-DIMM 1600 MHz up to 8 GB. Optional Display port, HDMI, LVDS, HD audio, two Gigabit ethernet, 2 x SATA3, 4 x USB3.0, 2 x USB2.0, 1 x RS232/422/485, 5 x RS232, 8-bit GPIO, 2 x Mini-PCIe sockets, 1 x SIM socket,1 x LPC,DC 9V ~ 24V input
Key Feature
CPU: Intel® Braswell Series Processor.

Memory: 1 x DDR3L (support 1.35V) 1600 SO-DIMM up to 8GB.

Integrated Graphics: Intel® Braswell SoC integrated HD Graphics.

Display port interface: Onboard Display port connector (Display port and optional CRT can't be enabled simultaneously).

HDMI interface: Onboard HDMI connector.

LVDS interface: Onboard 18/24-bit dual channel LVDS connector with +3.3V/+5V/+12V supply.

LAN Interface: 2 x Intel® I210 Gigabit LAN.

Serial ATA: Support 2 x SATA3 with 600MB/s (6Gb/s) transfer rate, no support RAID 0,1. (CN_SATA-2 connot use when MINI CARD1 change to mSATA)

Audio: Realtek ALC262 HD Audio.

Internal I/O Port: 1 x PS/2, 4 x RS232, 1 x RS232/422/485, 1 x GPIO, 1 x Audio, 1 x SMBUS, 1 x LVDS, 1 x LCD inverter, 1 x LPC, 2 x USB 2.0, 2 x SATA3 and 1 x DC Out.

External I/O Port: 1 x RS232, 1 x HDMI port , 2 x RJ45 LAN ports, 4 x USB 3.0, 1 x Display port(Optional).

Extended interface: Two PCIE Mini card slots (Only MINI CARD1 support mSATA), one SIM socket.

GPIO interface: Onboard programmable 12 pin-header, 8-bit Digital I/O interface.

Power Requirement: DC Input 9~24V.
  Specification
Form Factor

3.5 inch miniboard

Processor

Intel® Braswell Series Processor N3710/X5-E8000, FCBGA1170 package

Memory

1 x DDR3L (support 1.35V) 1600 SO-DIMM up to 8GB. Support Non-ECC.

Integrated Graphics

Intel® HD Graphics

Real Time Clock

Chipset integrated RTC with onboard lithium battery

Watchdog Timer

Generates a system reset with internal timer for 1min/s ~ 255min/s

Serial ATA Interface

Support 2 x SATA3 with 600MB/s (6Gb/s) transfer rate, no support

RAID 0,1. (CN_SATA-2 cannot use when MINI CARD1 change to mSATA)

Display Interface

Intel® HD Graphics Technology

1 x HDMI (Rear I/O HDMI connector)

1 x Display Port (Rear I/O Port) (Optional)

1 x LVDS (One onboard 24-bit dual channel connector with +3.3/+5/+12V supply)

(Display port and optional CRT can't be enabled simultaneously)

LVDS Interface

One onboard 18/24-bit dual channel LVDS connector with +3.3/+5/+12V supply

Audio Interface

Realtek ALC262 HD Audio

LAN Interface

2 x Intel® I210-AT Gigabit LAN

GPIO Interface

Onboard programmable 12 pin-header, 8-bit Digital I/O interface

Extended Interface

Two PCIE Mini card slots, one SIM socket.

(Only Mini_Card1 can change to mSATA)

Internal I/O Port

1 x PS/2, 4 x RS232, 1 x RS232/422/485, 1 x GPIO, 1 x Audio, 1 x SMBUS, 1 x LVDS, 1 x LCD inverter, 1 x LPC, 2 x USB 2.0 , 2 x SATA3 and 1 x DC Out

External I/O Port

1 x RS232, 1 x HDMI port, 2 x RJ45 LAN ports, 4 x USB 3.0, 1 x Display port(Optional)

Power Requirement

DC Input 9~24V

Board Dimension

146mm x 101mm (L x W), 1.6mm

Temperature

Operating within 0°C ~ 60°C (32°F ~ 140°F)

Storage within -20 ~ 80°C (-4°F ~ 176°F)
  Ordering Guide

LE-37FNXIP

Intel® Pentium® Core™ Processor N3710, DisplayPort, HDMI, LVDS, USB2.0, USB3.0, MinIPCIe, mSATA, LAN, Audio, SATA3, COM, LCD inverter, LPC, PS/2, SMBUS, DC in 9~24V.

LE-37FEXIP

Intel® Atom® Core™ Processor X5-E8000, DisplayPort, HDMI, LVDS, USB2.0, USB3.0, MinIPCIe, mSATA, LAN, Audio, SATA3, COM, LCD inverter, LPC, PS/2, SMBUS, DC in 9~24V.

LE-37FNXIT

Intel® Pentium® Core™ Processor N3710, 11pin socket (connect to ADP3355 for CRT), HDMI, LVDS, USB2.0, USB3.0, MinIPCIe, mSATA, LAN, Audio, SATA3, COM, LCD inverter, LPC, PS/2, SMBUS, DC in 9~24V.

LE-37FEXIT

Intel® Atom® Core™ Processor X5-E8000, 11pin socket (connect to ADP3355 for CRT), HDMI, LVDS, USB2.0, USB3.0, MinIPCIe, mSATA, LAN, Audio, SATA3, COM, LCD inverter, LPC, PS/2, SMBUS, DC in 9~24V.

LE-37FNXIP-4G

Same as LE-37FNXIP, but with DDR3L 1600 4G-SODIMM Module

LE-37FEXIP-4G

Same as LE-37FEXIP, but with DDR3L 1600 4G-SODIMM Module

LE-37FNXIT-4G

Same as LE-37FNXIT, but with DDR3L 1600 4G-SODIMM Module

LE-37FEXIT-4G

Same as LE-37FEXIT, but with DDR3L 1600 4G-SODIMM Module

LE-37FNXIP-8G

Same as LE-37FNXIP, but with DDR3L 1600 8G-SODIMM Module

LE-37FEXIP-8G

Same as LE-37FEXIP, but with DDR3L 1600 8G-SODIMM Module

LE-37FNXIT-8G

Same as LE-37FNXIT, but with DDR3L 1600 8G-SODIMM Module

LE-37FEXIT-8G

Same as LE-37FEXIT, but with DDR3L 1600 8G-SODIMM Module